Trump WH Lawyers' Hours of Testimony Is a Political Earthquake: Kirschner
The extensive testimony of two former Trump lawyers to a federal grand jury about last year's Capitol riot has been likened to a political earthquake, according to one prominent pundit.
Pat Cipollone and Patrick Philbin, lawyers who served in the Office of White House Counsel during the latter years of the Trump administration, tested before a criminal grand jury on Friday as part of the Department of Justice's (DOJ) investigation into the attempted insurrection on January 6, 2021. The investigation is one of the cases at the DOJ involving former President Donald Trump who is now being overseen by special counsel Jack Smith.
Cipollone, according to CNN, was seen entering the grand jury area around 9 am with his attorney, Michael Purpura, and did not leave until about five hours later. Philbin, also represented by Purpura, entered around noon and stayed until around 4 pm, bringing the collective time of their testimony apparently up to nearly 10 hours.
Appearing on MSNBC's 11th Hour on Saturday morning, Glenn Kirschner, a former federal prosecutor and outspoken left-wing political pundit, described the testimonies of Cipollone and Philbin in seismic terms and suspected that it was more bad news for Trump.
"It tells me…that prosecutors had 10 hours, and aggregated 10 hours worth of relevant questions for these two," Kirschner said. "We've become accustomed to the outrageous, you know. The White House Counsel and deputy White House Counsel of a former president who's being criminally investigated by a grand jury was just tested for 10 hours. In pre-Trump times, that would be an 11 on the political and legal Richter scale."
Cipollone previously spoke with the January 6th House select committee, appearing in a taped deposition that took place on July 8. His part in the events that led up to the Capitol riot was discussed in depth during the hearings, with former Trump aide Cassidy Hutchinson stating that he discussed the former president's potential criminal exposure that could result from the "Stop the Steal" rally on January 6.
"Pat was concerned it would look like we were obstructing justice or obstructing the Electoral College count," Hutchinson said. "That would look like we were obstructing what was happening on Capitol Hill."
Kirschner on Saturday also noted that Cipollone might have been restrained by his own legal counsel during the taped deposition, and suggested that he might have been more forthcoming before the grand jury.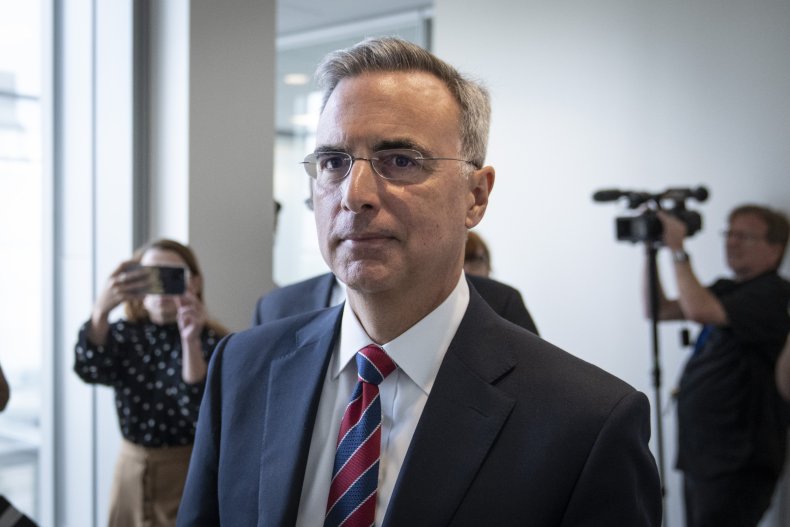 "We watched Pat Cipollone testify before the J6 committee, it almost seemed like he wanted to say more, but he kept looking over at his attorney… and you could see his attorney signaling, 'You can't answer those questions,' " Kirschner said. "Cipollone would turn back to the J6 interrogators and say, you know, I can't go any farther. Well, you know what? Behind closed doors in that jury room today, he went farther."
Newsweek reached out to Trump representatives for comment.